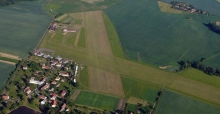 Vychodocesky aeroklub Pardubice is located on the slope of the Zelezne hory Mountains at the airport Podhořany.
Location:
ARP: 49°56'21"N ; 015°32'59"E --- 1250ft/381m
11 km E Čáslav
Frequency:
123,6 MHz - Podhořany RADIO
Operating time
1 APR - 15 OCT SAT, SUN, HOL 0700-1400
Circuits
Height 2300 ft / 700 m QNH.
For takeoff and landing use in preference RWY 07/25. Expect RC models operation south from RWY 31/13.
Taxi only on RWY, or follow AFIS instruction.
Runways:
RWY 25/07
size: 730x75 m
6000 kg / 0,7 MPa
RWY 31/13
size: 640x92 m
6000 kg / 0,7 MPa
VFR entry points:
north - Lipoltice
west - Bílé Podolí
south - Prachovice
east - Heřmanův Městec
Rules and limits of the aerodrome
Airfield Pohdorany is situated in MCTR Caslav and on the border of MCTR Pardubice. Before arrival to the airfield it's mandatory to receive clearance from TWR Caslav, in case of arrival from North and East clearance from TWR Pardubice
Prolong or heavy rain fall might cause RWY 12/31 unusable.
Please read more about airfield operation zones here:
http://letistepodhorany.cz/pro-piloty/prostory-letiste