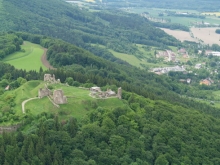 Great geographical position allows airfield Podhorany with right wind direction and speed use strong rising stream almost immediately after takeoff. Approximately in half of the length of the slope Zelezne Hory you can find remains of a castle Lichnice.
Info
General information about wind direction and speed for using the slope of Zelezne Hory. (For non locals: stretches from Chvaletice to Zdirec n. Doubravou)
Direction: 230 - 280°
Speed: 10-15 kt (depends on direction)
Best conditions are usually in stable layers where circumfluence is not disrupted by thermal movements of the air mass.
Links on web
Before coming to the airfield we recommend to find out about the actual meteorological situation METAR (wind, clouds, etc.) for the nearest airports Caslav and Pardubice. precipitation development visit online Radar Animation CHMU and similar animation from German provider. Actual airfield situation including traffic can be viewed in real time in Webcam section .
Wonder how the slope really pulls? Why don't you check our photo gallery!
Join us on facebook
Terrain map
Zobrazit Svah Železných hor na větší mapě
Video